Acworth's Women's 5K Sprint Triathlon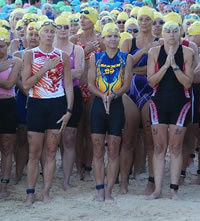 The 4th Annual Acworth Women's Sprint Triathlon was a great success at Lake Allatoona on Sunday August 10.
The event was held at Dallas Landing. The competitors swam 400 yards, cycled 13 miles and then finished with a 5K run that ended in downtown Acworth. Kim Dunker (Athens), Katie June (Roswell) and Barbara Chandler (Atlanta) finished 1st, 2nd and 3rd respectively. Ms Dunker took 1:09:34 to finish all three stages.
The event raised money for Ovarian Cancer Research and was sanctioned by USAT, the national governing body for the sport of triathlon.