While the rest of us scavenge Arby's coupons, somewhere in this great big world, there are people who worry about interest rates on their $72.4 gazillion.  Others have boats so big they have to check bridge clearance data on Lake Allatoona, so they don't chop off their yacht's top 10 decks by trying to squeeze under the bridge on I-75.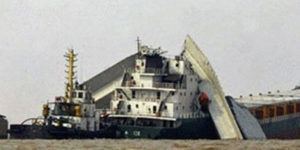 If hitting a low bridge isn't your favorite way to customize your boat, we can help you figure out which ones you can sail beneath.
You can laugh today … but after you win the lottery, this will come in handy.  Especially if you try to sneak your flying bridge under Tanyard Creek late some night.  That noise you will hear will be the sound of your life savings flying out of your accounts.
Be safe … or buy a canoe.