The U.S. Army Corps of Engineers office at Lake Allatoona does a very big job very well.  Whether it's maintaining campsites and keeping day-use areas clean or keeping visitors safe, they do it all — including keeping boaters informed about boat ramp elevations.
Their data about boat ramp elevations on Lake Allatoona alerts folks to where they can or cannot launch their boats, before they get to the lake.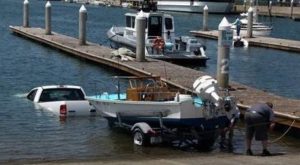 Scientists tell us "whatever goes up must come down."  Anyone with a boat on Allatoona knows that "when the lake level goes down, it doesn't always go back up."
When the lake is low, boat ramps are closed.  That save propellers, hulls and expensive repairs.
By clicking on the links below, you'll find accurate data about the lake's:
Bottom Elevations
Top Elevations
Length of Lanes
Number of Lanes
Slope Percentage
Checking your favorite boat ramp before you hit the water might save you time and money.
Lake Allatoona Boat Ramp Elevations