Mister Frisby Flies Over Lake Allatoona
Lake Allatoona is more than a body of water.  People come from everywhere to bask in its serenity and to share their favorite hobbies.
Here is an excerpt from an unusual story written by Monica Burge for Neighborhood Newspapers: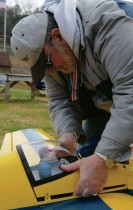 Carl Frisby nimbly maneuvers a scale model aircraft above an open field located just off Allatoona Dam Road on the outskirts of Emerson.  Less than three feet long, the plane looks like something a young boy could spend an afternoon enjoying, but flying model airplanes is not just for kids, Frisby said.
"It's not a toy," Frisby said.
Bartow County Model Aviation has about 40 members who meet Wednesdays and Saturdays—weather permitting—to take their model airplanes out for a spin. All it takes is a willingness to learn and follow safety guidelines and proper mechanics.
These "pilots" have years of experience under their belt and consider flying a specialized skill.
"We're serious about this," said Treasurer Richard LeClaire.