Acworth's Computer and Metal Recycling Day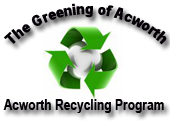 The City of Acworth urges you to Think Green!
In conjunction with Federal Recyclers, Acworth's Parks and Recreation Department invites you to their semi-annual Computer, Electronics and Metal Recycling Day at the Acworth Sports Complex, off South Main Street.
The date is Saturday, May 12, 2012, from 8 AM until 5 PM.  There won't be another opportunity until next November.
Anything metal can be recycled instead of tossed into a landfill to rust.  Bring your old BBQ grills, lawn mowers, patio furniture, car parts, bicycles, siding, exercise equipment or those crummy golf clubs that cannot hit a stupid golf ball straight even after you watched Tiger all day on TV.
Recycling is free, but there are exceptions:
$15 fee for computer monitors
$20 fee for televisions.
Paint cans are allowed to be recycled.  However, please leave labels on paint cans because some paints are hazardous waste and need to be separated for controlled recycling.
$2 for pints and gallon cans of paint
$7 for 5-gallon cans.
Please Note:  You cannot recycle your neighbor's noisy motorcycle and/or annoying air blower without their written permission.