Lake Allatoona Fishing Report (10-12-12)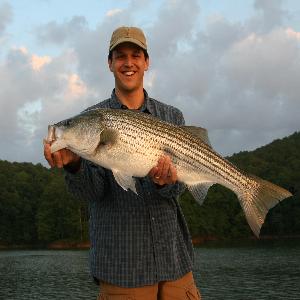 Robert Eidson's Lake Allatoona Fishing Guide Report is provided by First Bite Guide Service of Lake Allatoona.  When you're ready to catch stripers and hybrids, contact Robert at 770-827-6282 or by e-mail at [email protected]
Line side fishing is good.
The bite this week has been strange.  The lake is starting to turn over and the fish are on the move.  This week I have caught good numbers of stripers and hybrids out over the river channel fishing 40' deep with live bait … then again pulling umbrella rigs on an 18' bottom.
The fish that are out over the river channel seem to be on the bigger side.  But the ones that are up shallow are more willing to eat.
Trolling: The umbrella rig bite is probably the best overall bite.  But look for these fish to be on the smaller size.  This week I have been pulling my rigs 75-80' behind the boat on a 16-20' bottom.  These fish are on the move.  So make sure you cover a lot of water.  I have caught fish as far north as the S-turns this week the entire way south to the dam.
Top-Water bite is DEAD.  I have seen very limit topwater action this week.  Most of it seems to be spotted bass.  I look for the topwater bite to pick up after the lake finishes turning over.
Good things are just around the corner.
I still have a few days open for October.  Give me a call at 770 827-6282 for availability or book your trip online at First Bite Guide Service.