Wakeboard Wackos Attack Allatoona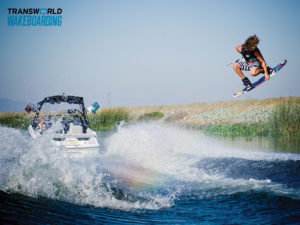 The first stop on the MasterCraft Pro Wakeboard Tour will be in Acworth, GA, beginning Friday, May 18, 2012 at Dallas Landing Park.
The tour's top riders will compete — before a crowd expected to number close to 10,000 — performing death-defying aerial maneuvers and "rail" tricks that make the most sane person scream, "THAT WAS CRAZY!!! DO IT AGAIN!!!"
Acworth's Parks and Recreation Director James Albright is thrilled to have thousands of professional wakeboarders (a.k.a. "lunatics") and their fanatical fans come to Acworth … and leave their money behind.  (Just kidding!)  Albright said, "It brings riders, families and people from all over the world."
Qualifying rounds — free and open to the public — take place from 9 AM to 5 PM on Friday the 18th.
Saturday's main event is scheduled from noon to 8 PM.  Tickets are required and will be available at the event.
Families are encouraged to attend, although mothers will probably not encourage their precious children to become professional wakeboarders.  (Nice try, kids.)
The weather is going to be perfect for the madness on the water, and the food and music on shore.
If you're in the market for the world's most remarkable boat to hustle the family around Lake Allatoona, the new MasterCraft XStar will be the star of the show.  It's a half-ton dandy that provides huge wakes … perfect for launching teens into orbit from tubes and wakeboards.
Rounds on Saturday will be followed by exhibition events — the Double Up Contest and Big-Air Kicker Contest — featuring unconventional tricks.  That should be cool.
Parking at Dallas Landing Park is limited, but Acworth has kindly provided Shuttle service from designated stops downtown.