Lake Allatoona Fishing Report (6-20-12)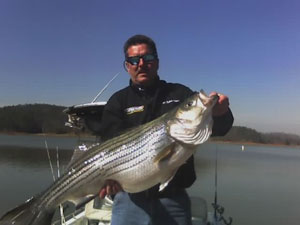 Robert Eidson's Lake Allatoona Fishing Guide Report is provided by First Bite Guide Service of Lake Allatoona.  When you're ready to catch stripers and hybrids, call Robert at 770-827-6282. His e-mail is [email protected].
Line-side fishing is great.
The bite this week has been awesome aboard all three of our boats.  All the major creeks are producing good numbers of fish right now.
The down-line bite is nothing short of incredible.  These fish are scattered in the water column from anywhere from 13 – 40 feet deep.  Shad, shiners and bream are all working.
Make sure you catch your bream on hook and line.  Be sure to carry plenty of bait and change it often.  Frisky bait is the key to putting more fish in the boat.
Trolling is really picking up.  Most of our bigger fish this week came on our umbrella rigs.  For me, there is nothing better than the Mack Farr u-rig.  I have had some really good days here lately pulling these rigs.  Also, single buck-tails fished 150' behind the boat at 2.4 MPH will get you bit.
Topwater is good early in the morning and late in the afternoon.  A white rooster-tail is hard to beat — it is working well on hybrids, stripers and schooling spots.
I was featured in May's Issue of Georgia Outdoor News!  Click Here for My Story on May Tactics on Lake Allatoona.
The fishing is great right now.  This is the best time of the year to introduce kids to fishing.  Give me a call at 770-827-6282 and book your family trip today with First Bite Guide Service.