Lake Allatoona Fishing Report (2-29-12)
Robert Eidson's Lake Allatoona Fishing Guide Report is provided by First Bite Guide Service of Lake Allatoona.  When you're ready to catch stripers and hybrids, contact Robert at 770-827-6282 or by e-mail at [email protected].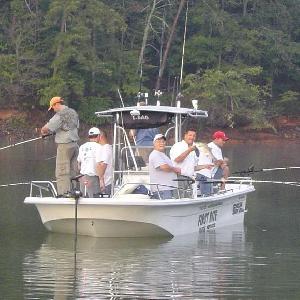 Line-sides are GREAT!!!  The bite this week has been very good.  I can't believe it is March and the bite is this strong.  The water temperature is on the rise and I don't see any signs of the bite letting up or a shad kill this year.
The fish are starting to stage on the flats between Little River and Fields Landing and are getting ready for the spawn run.  There are also good schools of fish from the S-Turns to Kellogg's, and also at Bartow Carver.
Live baitfish on free-lines, Planer Boards and down-lines have all been working equally well throughout the day.  I have had some good reports of fish being caught in the Allatoona Creek arm as well.  Look for these fish to be between Iron Hill and the Block House.  The fish in Allatoona Creek seem to hit a Mack Farr Umbrella rig better than live bait right now.
We are starting to book up for April.  We still have some good days open for the end of March and most of April.  Give us a call at 770-827-6282 to catch some fish with First Bite Guide Service.