Lake Allatoona Fishing Report (5-30-12)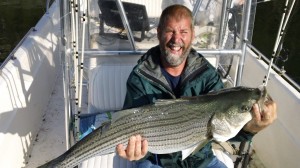 Robert Eidson's Lake Allatoona Fishing Guide Report is provided by First Bite Guide Service of Lake Allatoona.  When you're ready to catch stripers and hybrids, contact Robert at 770-827-6282 or by e-mail at [email protected]
Line side fishing: Very Good.
The only thing that has changed since last week's report is the bite — it has gotten stronger!  This was an unbelievable week aboard my boats.  The summer bite is in full swing.
All the major creeks are producing good numbers of fish right now and the down-line bite is the best bite going.  These fish are scattered in the water column anywhere from 12-50 feet deep right now.  Trust your electronics.  If you are marking fish at 50 feet, go get them.
The south end of the lake is now keeping pace with the north end.  Fish can be caught in almost any major creek right now.
Trolling is working great with the Mack Farr umbrella rig.  The key to trolling right now is not starting too early.  The rig bite is better after the sun comes up and may be your best bet for getting bit midday.
Topwater action is good early in the morning and late in the afternoon.  Use a Sammy 110 and catch the hybrids, stripers and schooling spots.
I was featured in May's Issue of Georgia Outdoor News!  Click Here for My Story on May Tactics on Lake Allatoona.
The fishing is great right now.  This is the best time of the year to introduce kids to fishing.  Give me a call at 770 827-6282 and book your family trip today with First Bite Guide Service.