Lake Allatoona Fishing Report (7-10-13)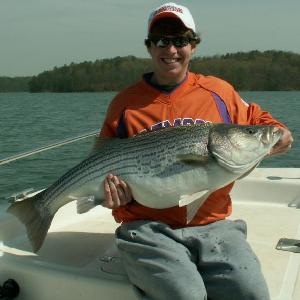 Robert Eidson's Lake Allatoona Fishing Guide Report is provided by First Bite Guide Service of Lake Allatoona.  When you're ready to catch stripers and hybrids, contact Robert at 770-827-6282 or by e-mail: [email protected].
Line-side fishing is Good!
The bite this week has been very good.  Change nothing when it comes to locations and techniques.
Down-lining shad is still the ticket to catching big numbers.  Down-lines fished in the mouth of any creek, creek channel or river channel will get you bit.
The water temperature is rising and the dissolved oxygen levels are falling.  Bait isn't living very long on a hook fished deeper than 24 feet.  So, make sure you carry plenty of bait with you.
There are two bites going on right now.  The first one is from the dam to Holiday Marina.  The other one is from the mouth of Kellogg's to Bartow Carver.
Trolling is Good!!  The U-Rig bite is finally taking off.  We are starting to see multiple hook-ups on our trips.  I am fishing my rigs 120–150 feet behind the boat at speeds of 2.4–3.3 MPH.  The rig bite should be on fire soon.
Live it up.  Go fishing and bring the family!
Contact Info
Phone: 770-827-6282
E-mail address: [email protected]
Website: First Bite Guide Service