Smoke on the Lake BBQ Festival in Cauble Park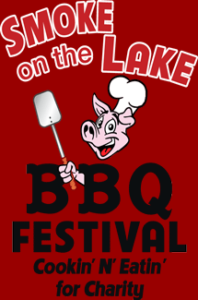 The Smoke on the Lake BBQ Festival is back for the fourth straight year and the organizers — North Cobb Rotary Club, City of Acworth, Superior Plumbing  and the Georgia Barbecue Association — believe it'll be the best one yet.
The fun begins Friday evening, May 10th, at 6 PM and continues on Saturday from 10 until 4 PM at Cauble Park in Acworth.
All proceeds will be distributed to local charities.
There's a free concert Friday night at 8 PM featuring the Jimmy Buffet "cover band" known as Sons of Sailors.  Go blow out a flip-flop, but don't step on a pop-top.  Just enjoy the sun setting over the lake with friends and neighbors.
Saturday will have some of the best BBQ this side of Jefferson, Georgia's Iron Pig.  Teams from all over the Southeast will compete in professional and amateur divisions hoping to be Top Pig.
There will be a special competition called people's choice where you get to be the judge, and taste different BBQ entries!
Have a good time and make a difference in your community at the same time.