Lake Allatoona Fishing Report (3-22-13)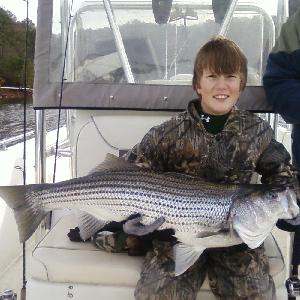 Robert Eidson's Lake Allatoona Fishing Guide Report is provided by First Bite Guide Service of Lake Allatoona.  When you're ready to catch stripers and hybrids, contact Robert at 770-827-6282 or by e-mail: [email protected].
Line-sides: Good!!!
The south end of the lake is still holding fish, but not as many as weeks past. I have done really well mid-lake this week and have also caught a few good fish in the Allatoona Creek Arm.
The fish are still hitting flat-line and planer boards best in the early morning. By 9:30 am change over to down-lines and u-rigs.
The spring run has started. The white have already started running up the river. It won't be long before the Hybrids and Stripers start their run as well.
Topwater:  The topwater bite is also starting to pick up. Both the flats at Little River and the Delta are starting to heat up at sunup and sundown.  White Rooster Tails are hard to beat when these fish are busting top water.
April is one of the best months for Stripers and Hybrids on LakeAllatoona.  I still have a few days open.  Give me a call and let's go fishing: 770 827-6282.  Contact me online at First Bite Guide Service.  My e-mail address is [email protected].