Acworth's Daddy-Daughter Dance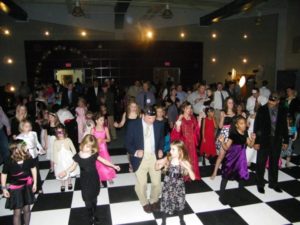 The best way for men to try to understand women is to have a daughter or three.
Folklore says raising girls can help husbands begin to figure out their wives, although it's hard to believe.
My two daughters are gifts to my family … and to the world.
But raising girls isn't easy.
Dads must cope with The Dual Daughter Dilemmas:
Dilemma One:
Dilemma Two:
Pfft.  You thought it was going to be easy.
Don't waste a day, dads.  Spend time with your daughters before they realize you're a heartless dweeb who might actually enforce a curfew, screen her dates and/or object to spending her life savings on tattoos and piercings, instead of college.
The 2013 Daddy-Daughter Dance
Carpe de dance!
Ask your daughter to go out with you on Saturday, February 16, 2013, to the annual Daddy-Daughter Dance at the North Cobb High School gym.  Treat her like a treasured little lady.  Pamper her.  Teach her to expect other men to show her kindness and respect too.
This Year's Theme is Candy Land
Candy cane wishes and sugarplum dreams, we're having a party filled with sweet things!  King Kandy has invited all girls ages 13 and under to take a trip through the Kingdom of Sweet Adventures to the Candy Castle!  Dress in colorful party attire as you go down the Rainbow Trail.  Don't forget to go through Peppermint Forest and Gumdrop Pass to complete your adventure in Candy Land!  It will be an evening of great times for all.
This dance is a great opportunity for dads and their daughters to spend a special evening together.  Refreshments will be served and a DJ will be providing music for the couples to dance the night away.  This event is open to girls up to age 13 with their dad or adult male escort.
Sportography will be set up for optional pictures.
Details
Fee:
$25.00 per couple for City of Acworth residents.
$35.00 per couple for non-city residents.
Additional daughters are $10.00 each.
Registration:
Please pre-register in order to guarantee receiving a welcome and going away gift!
There will be on-site registration the day of the dance.

Pre-registration ends at 5:00 PM Friday, February 15th.
Contact Information:
Please contact Lauren Ham:
Dads: The date you save might be your own.