Update on Lake Lanier Park Ranger Shooting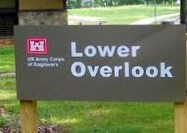 Additional information has been given to LakeAllatoona.com by Gwinnett County's Public Information Officer Cpl. Jake Smith regarding in the shooting of an unarmed park ranger around 10 PM, Wednesday, June 26, 2013, at Lake Lanier's Lower Overlook section of Buford Dam Park.
After police in Gwinnett County received an emergency call about the shooting around 10:15 PM, officers quickly responded to the scene where they found a federal park ranger suffering from a gunshot wound to the torso.
The injured U.S. Army Corp of Engineers Park Ranger has been identified as 70-year-old D. P.  Wright, a white male.  Ranger Wright underwent surgery for the gunshot wound.  He remains hospitalized, but is expected to survive his injuries.
Ranger Wright was able to give a statement to officers before he was transported by ambulance from the scene of the shooting.
The unarmed ranger was routinely closing Buford Dam Park's Lower Overlook area, driving his marked park ranger pickup truck, when he noticed a woman sitting in a vehicle in the parking lot.  Initial reports said the vehicle was a pickup truck; the latest information now says it was a "passenger car."
When Ranger Wright approached the car to notify the occupant that the park was closed, the woman produced a handgun and fired one shot without warning — striking the ranger in the abdomen.
Thankfully, the ranger escaped on foot towards the entrance of the Lower Overlook area and wisely secured the gate behind him.  That closed the only exit for the vehicle, preventing the attacker's escape.
The park ranger made it to Buford Dam Road where a passing motorist stopped and called 911.
Training pays off in perilous times.  Ranger Wright's description of the suspect and her vehicle allowed officers to quickly locate the suspect.
Officers discovered a deceased female matching the description of the suspect inside the vehicle in the parking lot.  A handgun was found inside the vehicle.
The woman has been identified as 34-year-old Qiana Moore of Woodstock.  Her next-of-kin have been notified.  The evidence discovered so far has led detectives to believe that Moore committed suicide.
Ranger Wright was wearing his official uniform, similar to ones worn by police officers.  Rangers carry pepper spray, but not all carry firearms.  The State of Georgia passed a new law making obstruction of rangers a state misdemeanor.  Violence against a ranger is now a felony.
We are thankful to the Gwinnett County Police for responding so quickly to this senseless shooting of an unarmed public servant.