Lake Allatoona Fishing Report (2-28-13)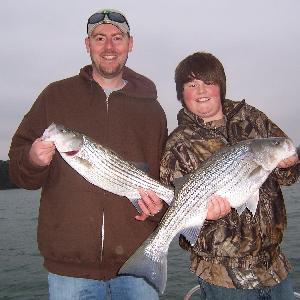 Robert Eidson's Lake Allatoona Fishing Guide Report is provided by First Bite Guide Service of Lake Allatoona.  When you're ready to catch stripers and hybrids, contact Robert at 770-827-6282 or by e-mail: [email protected].
Line-sides fishing is Decent!!
Same song and dance: rain, rain, rain.  The lake is stained from Little River all the way to the dam. The water is pretty clear from the dam south to Clarks Creek.
Finding fish is easy right now, but getting them to bite with any consistency is another story. The better bite this week came between the dam and Bethany Bridge. There is also a bite from the Block House to Clarks Creek, but both bites are fair at best.
Down-lining shad and small trout seems to work equally as well. Most of the bigger schools are between 22-50 deep. If we could go two weeks without rain, I think our bite will get great.
The water temps are really good for this time of year. If we don't see a big prolonged arctic blast, I think we will avoid a shad kill again this year. This will make netting bait easier this spring, but fishing may be a little harder.
As we enter into March, look for these fish to move north and start staging for the spawn run. I look for the run to start early this year, due to the mild winter we are having. I really look for these fish to make the migration north by the second week of March. The white bass should show up first, followed by the hybrids and stripers.
I really think the bite will be off the charts by the middle of March.
Trolling is still slow but is getting better. The best time seems to be midday.  I have been pulling my rigs at 2.4-3.3 mph about 100 behind the boat. The trolling bite is just around the corner. I really think once the lake clears the trolling bite will get as good as the live bait bite.
First Bite Guide Services rejoined forces with Lowrance Electronics.  We are proud to say we have the Lowrance 12 Touch aboard Firstbite.  If you would like to see the Lowrance Touch in action aboard Firstbite you can view daily pictures and video on our Facebook page.  All you have to do is click here.  Please "Like" our site.
I still have a few days open.  Give me a call and let's go fishing: 770 827-6282.  Contact me online at First Bite Guide Service.  My e-mail address is [email protected].