Big & Small Marinas on Lake Allatoona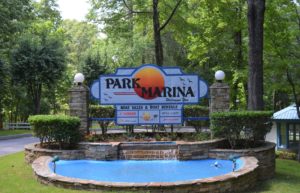 Rowboats are better than no boats.  You can still catch fish in an old bass boat held together by Bondo, duct tape and prayer.  The Fortunate Ones pull beauties on skis in boats with sound systems more powerful than VW Beetles. Sooner or later, everyone who is owned by a boat will need one of the fine marinas on Lake Allatoona.  Take your pick!
Park Marina
The Big Daddy of Marinas on Lake Allatoona
Park Marina — inside Red Top Mountain State Park — is open every day to serve boaters on Lake Allatoona.  They can accommodate boats of any size and their many services will make all your visits valuable and enjoyable.
They never settle for what was best last year or the year before.  For more than 30-years, they have continually upgraded, updated and improved all they have to offer your family and your watercraft.
Park Marina is home to Paradise Boat Rentals, where you can rent boats in just about any size, color or flavor: pontoon boats, runabouts and personal watercraft.
Park Marina is the Lake Allatoona's largest marine repair service for anything from drive replacement to seasonal maintenance.  
Click Here for Park Marina's Facebook page.
Contact Information:
Victoria Harbour 
Master the seas, then come ashore to bid the day goodbye at Sunset Grill.
Victoria Harbour Marina on Lake Allatoona has the deepest water on Allatoona.  That means no depth issues, even when the lake is drawn down for winter or during other low-water conditions.
Their break wall helps keep the harbor safe.  Gated docks help keep your property secure and there's convenient parking for access to wet slips.
The best part — whether you moor your boat there or not — is Sunset Grill.  The best place this side of Tahiti to watch a sunset.
Click on Victoria Harbor Marina's Facebook page for photos and information.
Contact Information:
Wilderness Camp
The Lake's Best Kept Secret
Doesn't this sound inviting?  "Tucked away in a secluded cove where Stamp Creek pours into beautiful Lake Allatoona, you'll be delighted to visit the lake's best-kept secret!  Wilderness Camp Marina."  Yes, please!
Wilderness Camp makes it easy for you to spend more time on Lake Allatoona, instead of just dreaming about it.  Private patios, convenient parking, lighting for fun after the sun goes down, a deep-water boat ramp, private cabins and just enough "wilderness" to make you love the outdoors.
For pictures and more details go to Wilderness Camp's Facebook page.
Contact Information:
Harbor Town
Lake Altoona's Coziest Marina for Sailboats
Harbor Town has 300 slips from 20′ — 55 ' on 12 docks.  There's happy harbor here for your boat.
After you put all your ship's sheets into the wind, sail back to one of the 100 slips at Harbor Town, where you'll find plenty of mateys moored, and wide-open water nearby when the sea calls again.
Contact Information: