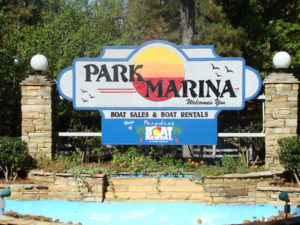 Park Marina is nestled inside Red Top Mountain, Georgia's largest state park.  Open daily all year long, Park Marina can accommodate any size boat on Lake Allatoona.  Park Marina has been updated, improved and refined for more than three decades.  Their extensive amenities will make every visit to Lake Allatoona as close to perfect as possible.
Park Marina is home to Paradise Boat Rentals, where you can rent boats in many sizes, colors and flavors.  Choose from pontoon boats, runabouts and personal watercraft.
Park Marina is the lake's largest marine repair service with unmatched capabilities, from drive replacement to seasonal maintenance.
Amenities:
 24-hour pump-out
700 slips on 22 docks, from 20' to over 100' in length
8-foot-wide walkways
Boat rentals
Boat repairs
Boat sales
Deep water marina that keeps your boat safe, secure and afloat
Electricity (up to 100 amps) and water service are available
Gas island with 13 pumps
Hiking trails go for miles throughout Red Top Mountain
Lighting for fun after dark
Parking
Private patios
Ship store, floating and full of goodies
Smooth water from our innovative wave-break system
Wireless Internet
Perfect weather is guaranteed – some exclusions apply.
Contact Information:
Address: 651 Park Marina Road, Cartersville, GA 30121
Phone: 770-974-BOAT (2628)
Website: Park Marina at Lake Allatoona's Website