Cherokee Mills Park is located in Cherokee County near the northeastern end of Lake Allatoona.  Here's an idea for a nice summer day.  Launch your boat, catch hundreds of big fish and invite all your rowdy friends back to your house for supper.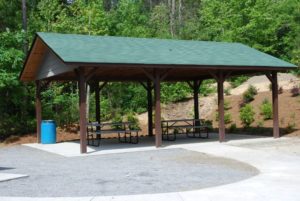 There are three boat ramps and a boat dock at Cherokee Mills Park.  Put your boat into the water here and let your troubles float away as you relax on Lake Allatoona.
Pay per visit or purchase a season pass at the recreation center in Woodstock.
Daily Fee:  $5.00
Annual Pass:  $40.00 (Military Active Duty & Veterans get a 50% discount)
Seniors:  Free admission for those 62 and Older
There's no charge for having fun and making memories on Georgia's greatest lake.
To help reduce the number of water-related injuries and fatalities at Corps of Engineers facilities at Allatoona Lake, the Corps began the Life Jacket Loaner program.
You may borrow life jackets for both children and adults from 23 different loaner stations around the lake.  Visitors must show a proper form of identification to secure life jackets, and return them when you are done using them.
Amenities
Boat ramp
Picnic shelter
Restrooms
Contact Information
Address:  6900 Bells Ferry Road; Woodstock GA  30188
Phone for Cherokee Recreation & Parks Center:  770-924-7768