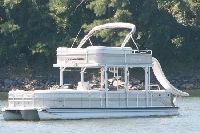 Most of us are rational human beings.  We prefer luxury cruises instead of the madness of white-water paddling and insanely plunging over a category-5 waterfall for "the fun of it."
For us, boating is what others do … while we enjoy the ride.  No running aground on rocks or hidden sandbars.  No running out of gas or ice.  No forgetting the little things, like life preservers and/or fire extinguishers.
We are the Barons of the High Seas!
That, shipmates, is why there is a Poly-Ah-Chi Girl charter floating the waters of Lake Allatoona.
Jim Pollick and his associates make it simple:
They supply the boat.
They supply the Coast Guard licensed captain.
You show up on time.
You pay.
You laugh, eat, drink, swim and have fun all day.
You go home.
They clean up.
They put the boat away.
You have the time of your life.  They swab the decks.  Works for me — how about you?
Ask about their special Midnight Cruises.  (Pssst! GUYS! Chartering a cruise to propose to you-know-who makes that unforgettable time … more unforgettable!)
Contact Information
Address: 5989 Groovers Landing, Acworth, GA  30102
Phone: 770-974-2575.  After regular business hours: 404-316-5337
Website: Fun Lake Charters' Website