Holiday Harbor has the perfect boat to make your day on Lake Allatoona as exciting or as restful as you please.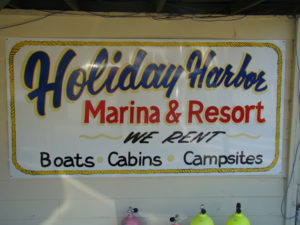 Holiday Harbor rents pontoon boats for any size family:
16′ length that seats five adults
20′ length for eight people
22′ length for ten of your closest friends.
If you've had enough relaxation for a while, try a runabout (a.k.a. "speedboat"):
18′ that seats seven
19′ that seats seven.
(Passenger limits subject to weight restrictions.  No pets allowed.  Please see website for age and other restrictions.)
Boat rentals include life jackets and all necessary safety equipment. Tubes are available with rental boats for an extra fee. (Sorry, we cannot be held responsible for smiles that last longer than four hours after returning your boat.)
Rock the day away or roll the day away with a safe, reliable rental boat from Holiday Harbor.
Contact Information:
Address: 5989 Groovers Landing, Acworth, GA  30102
Phone: 770-974-2575 Office; 770-975-3044 Fax
Website: Holiday Harbor Marina's Website