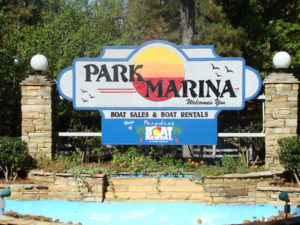 Park Marina, located at Red Top Mountain State Park, is the home of Lake Allatoona's largest boat rental operation: Paradise Boat Rentals.  They rent boats in a multitude of sizes, colors and flavors.  Choose from pontoon boats, runabouts and personal watercraft.  (Please note: There is no truth to the rumor that they rent submarines.)
If Paradise Boat Rentals doesn't have a boat that will bring you oodles of relaxation and exhilaration, perhaps you should consider hiking instead of boating.
Whatever question you might have about renting a boat, you'll find the answer at their Frequently Asked Questions page.  (Sorry, they don't provide winning lottery numbers, I looked.)
Park Marina and Paradise Boats Rentals can provide you with everything you need for a memorable day or an unforgettable week on the joyous waters of Lake Allatoona.
Contact Information:
Address: 651 Park Marina Road, Cartersville, GA 30121
Phone: 770-974-BOAT (2628)
Website: Park Marina's Paradise Rental Boats Website