Georgia – Alabama Water Wars Include Allatoona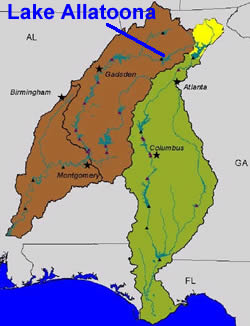 While the focus of the tri-state water wars is on the Chattahoochee River basin there is talk of Alabama trying to deal with the water that flows into the Coosa, Tallapoosa and Alabama rivers simultaneously.
This area includes Lake Allatoona and so there is sure to be some horse trading going on behind the scenes. As part of his long-term plan, Governor Perdue has mentioned transfers between the Flint and Savannah River basins. He has not spoken directly about the Lake Allatoona basin but it would surely factor into negotiations especially if an outside mediator is brought in to broker a deal.
Dealing with both issues together could have the effect of placating Alabama enough to move closer to getting an agreement done before water use of Lake Lanier reverts back to 1970's levels at the time of the deadline in three years.
Alabama Governor Bob Riley has said the Georgia should rejoin talks between the three states to resolve the issue between governors.