Red Top Mountain State Park Mountain Music Series Continues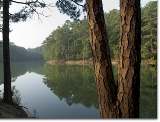 Saturdays 8 PM – 9 PM until Jul 25, 2009
Enjoy a summer evening at the Vaughn Cabin, listening to the sounds of live mountain and bluegrass music. Bring a lawnchair or blanket and have fun with the whole family.
Call the park for the band of the week (770-975-4226). $5 parking.
This popular park on 12,000-acre Lake Allatoona is ideal for swimming, boating and fishing. Visitors can bring their own boats or rent from Park Marine. Twelve miles of hiking trails wind through the park, providing opportunities for exercise and to explore a reconstructed 1860s log cabin (open and staffed on Saturdays). Named for the soil's rich red color caused by high iron-ore content, Red Top Mountain was once an important mining area for iron.
Red Top Mountain State Park and Lodge
50 Lodge Rd SE
Cartersville, GA 30121
Directions:
Located 45 minutes north of Atlanta near Cartersville, 1.5 miles east of I-75 exit #285.