Red Top Mountain Promoted For Business Events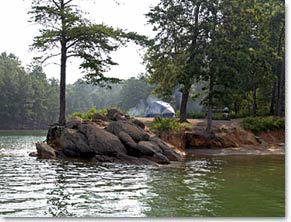 Georgia State Park's is giving its lodges a big push for meetings and corporate retreats. That includes Red Top Mountain on Lake Allatoona.
They're unveiling details of a new package called "Breath of Fresh Air" that is aimed at attracting business visitors. Vickie Slack, regional director of sales for Georgia State Park Lodges promotes the parks this way:
"Our seven lodge facilities located throughout the state are the perfect blend of technology and nature, which is ideal for planning a relaxing and productive meeting."
Details of the New Package
The "Breath of Fresh Air" meeting package includes overnight guest room, meeting facilities, meals (dinner upon arrival, breakfast the next morning and lunch the day of departure), morning and afternoon breaks, basic audio/visual equipment and all gratuities. Package prices range from $130 to $170 per night, based on time of year. Rates are based on single occupancy, with a 2-night minimum stay required on weekends.
Red Top Mountain State Park & Lodge
Red Top Mountain incorporates the best of business and recreation, including hiking on 12 miles of trails, swimming, tennis, boating, fishing and interpretive programs. The 33-room lodge features four meeting rooms totaling 2,500 square feet of functional space. Additional space is also available in the two group shelters that accommodate from 100 to 250 attendees