Lake Allatoona Fishing Guides Report For March 18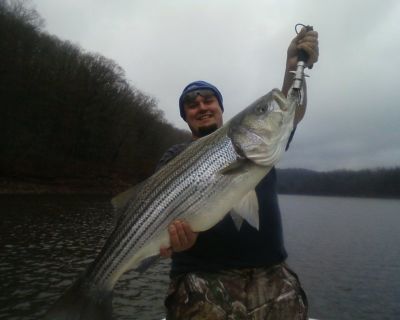 This Lake Allatoona striper and hybrid fishing report has been brought to you exclusively by Robert Eidson of First Bite Guide Service, 770 827-6282 http://www.firstbiteguideservice.com/ Lake Allatoona, Georgia email: [email protected].
Line sides fishing is good. The bite up the river is getting stronger each pasting day. Just last week we got reports of two fish over 30 lbs being caught just north of Knots Bridge. With all the rain we have had in the past two weeks I look for a GREAT bite up the river this spring. These fish can be caught on live shad as well as cut bait fished on the bottom . Chicken livers fished on the bottom will also work. They are still a few fish on the south end of the lake, but your best bet is up north. Mid lake fishermen should fish the mouth of the creeks. We have been getting most of our fish free-lining shad and Jumbo shiners 50 feet behind the boat.. Trollers are using the Mack Farr umbrella rig right now and doing fair. And the key speed right now is about 3.1 miles an hour and color does seem to matter. . Late March and April are two of the best Months for line sides on Allatoona get the kids and let's go fishing. 770 827-6282
Crappie are everywhere in the creeks down lake. Fish in any of the shallows in the backs of the creeks. Troll or drift the backs of creeks and use minnows and bright Hal Flies. Bridges are holding pre spawn fish and at depths of less than 5 feet. Work tree lines, standing timber or brush and stump row.
NEWS FLASH..
First Bite Guide Service is now doing Crappie trips.
I have been getting alot of calls over the years from people wanting to go catch crappie. And as most of you know I only fished for line-sides. So I decided to go out and hire the best Crappie angler in the state of Ga. First Bite Guide Service is proud to announce that our newest Captain is Stuart Wright AKA ( The Crappie King ). Stuart is know across the south for being one of the best. Call today and book your trip 770 827-6282