Lake Allatoona Fishing Report Aug 19
Line side fishing is Fair. The fishing this week is the same as last week, change nothing. The fish are still scatter up and down in the water colum out over the river channel. They are starting to bust top water along with the white bass but unlike the white bass ( Witch will stay up for 5-10 minutes at a time ) the Hybrids and stripers are only staying up for seconds. Down-lining live bait is working fair off of any main lake point down south. Br sure to carry alot of bait with you. When down-lining, change your bait frequently if you are not getting bit.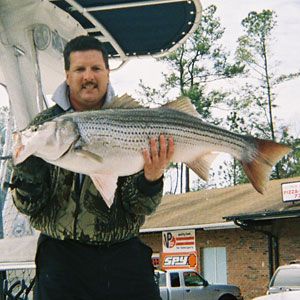 Trolling is your best bet if you want to catch numbers. Most of the fish we caught this week came on Mack Farr umbrella rigs. I am pulling my rigs at 3.4 miles and hour 125 feet behind the boat. Make sure you have a umbrella rig retriever on board. There nothing  worst then to be catching fish and lose your rigs.
White bass fishing is still the best bite on the lake. These fish are schooling on top from sun up to sun down. Just ride until you find them. Mid lake has been the best. A Zara Spook Jr, Popping corks and roostertails. are working best for these little line sides.
This Allatoona lake striper and hybrid report fishing report has been brought to you exclusively by Robert Eidson of First Bite Guide Service 770 827-6282 www.firstbiteguideservice.com. If you like to talk striper fishing then you need to visit our fishing forum. www.lakeallatoonafishing.net this site is about striper fishing on Lake Allatoona. The forum is for the whole family. Please come visit us. We still have a few days open for Aug give me a call at 770 827 6282 to book your trip today.