Lake Allatoona Fishing Report (5-2-12)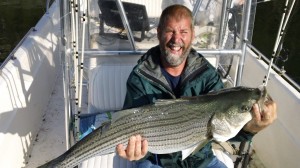 Robert Eidson's Lake Allatoona Fishing Guide Report is provided by First Bite Guide Service of Lake Allatoona.  When you're ready to catch stripers and hybrids, contact Robert at 770-827-6282 or by e-mail at [email protected]
Fishing is Good.
The river run is over.  The fish will be staging on the flats and schooling up at areas like The Delta.  The mouth of Little River should be loaded with stripers and hybrids.
There is a good early morning top-water bite in the Little River area, and there's lots of action on top at Victoria Landing by the sailboats.  Also, look for fish from Iron Hill to the spillway.  Fish flat-lines and planer boards early, and then switch to down-lines dropped to between 18 – 24 feet.
It should be easy to net your own bait, and shad are the best bait right now.  Bait is plentiful in all the creeks, and shad are on seawalls, rip-rap and bridge pilings.
Along with the down-lines, a Mack's four-arm umbrella rig with chartreuse jigs pulled between 2.7 – 3.1 mph is good, once the sun gets up.  While you're trolling, keep your eyes open for white bass coming up in schools.   Have something ready to throw to them.  A Rooster Tail or Zara Spook are both good.
I was featured in May's Issue of Georgia Outdoor News!  Click Here for My Story on May Tactics on Lake Allatoona.
We still have a few days open for May.  Don't miss the action!  Come catch some fish with First Bite Guide Service.  Give us a call at 770-827-6282.