Tellus: Astronaut Who Repaired the Hubble Telescope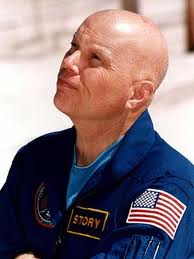 Story Musgrave — a 30-year NASA astronaut who flew on six space missions — will be the guest speaker at Tellus Science Museum at 7 PM, Friday, May 12, 2012.
You'll hear of the amazing missions of this American hero:
Performing the first shuttle spacewalk on Challenger's first flight
Pilot of an astronomy mission
Conducted two classified Department of Defense missions
Lead spacewalker on the Hubble Telescope repair mission.
Seating is limited for this once-in-a-lifetime experience.
Admission
The lecture is free for members and is included in regular admission for non-members.
Reservations are strongly recommended.  You may call 770-606-5700 ext. 431 by 5 PM on Friday, May 4th.
The remaining seats will be on a first-come, first-serve basis, with overflow seating available to watch a live stream of the lecture.