Magnificent Gibbs Gardens in Ball Ground, GA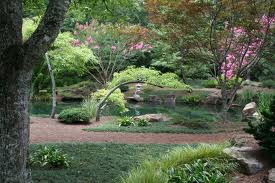 If you've never been to Ball Ground, GA, please plan a day trip that includes Gibbs Gardens — a gem for all those who love flowers and landscaping.
Imagine 300-acres of Eden-like beauty set in the forested foothills of the North Georgia Mountains. The rolling hills, shade trees and abundant springs and streams create an exquisite backdrop for these unforgettable gardens.
Not convinced it's worth the drive?  Maybe this will sway you.
Gibbs Gardens offers:
Japanese Gardens — the largest in the nation
Water Lily Gardens — the nation's largest display of 140 varieties in a natural environment
Daffodil Gardens — the largest display in the country
Manor House Gardens with seven flowering terraces from the Manor House to the Valley Gardens.
Even if you don't know the secret way to identify a dogwood tree (by its bark) and you could make a plastic rose wilt, your heart and soul will blossom at Gibbs Gardens.