Acworth Art Fest Begins April 14th
Ever heard that saying, "When mama ain't happy … ain't nobody happy"?  Well, here's a way to make mama — and the whole family — as happy as can be: the Acworth Art Fest, the weekend of April 14th.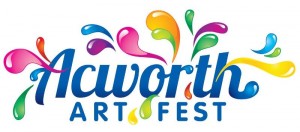 The Lake City's historic Main Street will be the delightful backdrop for 120 whimsical and talented artisans from all across America.
Their creative booth displays will decorate the beautiful street with paintings, pottery, metalwork, folk art, glass, jewelry, yard art and much more!
You are promised great weather (some restrictions apply), good food, excellent people-watching and a happy mama at the end of the day.  That, of course, bodes well for your evening too.
If you have to be on dry land, the best place to be is the Acworth Art Fest, the weekend of April 14, 2012.
See you there!