4th Annual Acworth Turkey Chase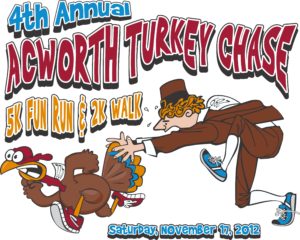 The 4th Annual Acworth Turkey Chase 5K Fun Run & 2K Walk will be held on Saturday, November 17, 2012 in beautiful Historic Downtown Acworth — halfway between heaven and Eden — on Lake Acworth.
This enormously popular event is presented by the very cool folks at the Acworth Parks, Recreation and Community Resource Department, who actually get paid to put on parties for the rest of us.
You, your family and your friends are invited to walk, jog or run along Lake Acworth in the 5K race.
Here's the best part:
All participants must bring a non-perishable food item on race day to receive their race number.
This event will be held rain or shine and will be followed with refreshments, good conversations and runners/walkers falling in love with their newly found soul-mates.
For those of us with failing memories, the start and finish lines will both be on Main Street in Acworth.  If you get lost, just follow the crowds back to where you started.  What could be easier?
All non-perishable food items and a portion of the proceeds will benefit the Tackle Hunger Program.
Lose a few pounds, meet a few new friends and feed a few folks who are going through hard times … at the 4th Annual Acworth Turkey Chase on Saturday, November 17, 2012.
You'll need to register by noon on Thursday, November 15th.  The link below will provide all the information you'll need.