Lake Allatoona Fishing Report (3-7-12)
Robert Eidson's Lake Allatoona Fishing Guide Report is provided by First Bite Guide Service of Lake Allatoona.  When you're ready to catch stripers and hybrids, contact Robert at 770-827-6282 or by e-mail at [email protected]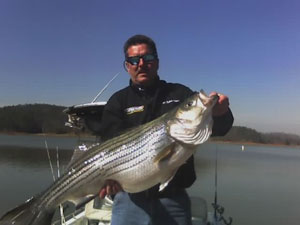 Line-sides are excellent!  Fishing for white bass, stripers and hybrids is fantastic.  The live-bait bite right now is great too!  Shad, shiners or trout fished on freelines and planer boards right at sun up will get you hits.  After the sun comes up, I have been changing over to all down-lines.
The north end of the lake has slowed down a little since the recent rains, but should return very shortly.  The fish were staging for the spawn run, but were pushed back south to mid-lake, because of the rolling mud that is coming out of the rivers.  Mid-lake is fishing very good right now from Kellogg's Creek to Clear Creek.  The south end of the lake is also starting to heat up.  Iron Hill is starting to produce some really nice fish right now.  The numbers are better mid-lake north, but if you're after size, head south.
We are starting to book up for April.  We still have some good days open for the end of March and most of April.  Give us a call at 770-827-6282 to catch some fish with First Bite Guide Service.