Lake Allatoona Fishing Report (8-8-12)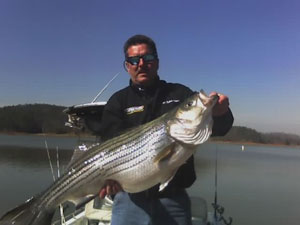 Robert Eidson's Lake Allatoona Fishing Guide Report is provided by First Bite Guide Service of Lake Allatoona.  When you're ready to catch stripers and hybrids, contact Robert at 770-827-6282 or by e-mail at [email protected]
Line side fishing is good for hybrids and small stripes, and great for white bass.
We are still catching hybrids – just not as many as in weeks past.  The mid-lake from Kellogg Creek up to Stamp Creek is producing best right now.  The Allatoona Creek arm is also producing good numbers, along with the dam bite.
Fish right on the edge of the river channel – either trolling single jigs up in the water column or down-lining live thread fin or shiners at 18-35 feet down, depending on where you're marking fish.  The schools are real tightly bunched.  If you get the down rods in the right place you have a good chance to double up.
The white bass and hybrids are schooling all over the lake on top, anywhere from Kellogg's to Clark Creek.  Most are white bass in the ½ pound – 1 ¾ pound range, but there are also some good hybrids mixed in the whites.  Use popping corks or a junior spook.
I was featured in May's Issue of Georgia Outdoor News!  Click Here for My Story on May Tactics on Lake Allatoona.
We still have days open.  Give me a call at 770-827-6282 and book your trip today with First Bite Guide Service.