Lake Allatoona Fishing Report (11-09-12)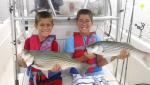 Robert Eidson's Lake Allatoona Fishing Guide Report is provided by First Bite Guide Service of Lake Allatoona.  When you're ready to catch stripers and hybrids, contact Robert at 770-827-6282 or by e-mail at [email protected]
Line Sides!!!  The bite is starting to improve and will only get better.  The seagulls should be showing up soon.  That will make finding the white fish easier.
I am spending most of my time on the north end of the lake.  Bait is plentiful in the back of most creeks and around Little River.  Cast-netting bait is easy right now and even novice cast-netters can net plenty of bait right now.
That is the good news.
The bad news for you guys that like to live-bait fish is the live-bait bite is only good for about an hour right at sun up.  After that, trolling U-Rigs and using jigging spoons are the keys to catching numbers on Allatoona.
The best bite going right now is from Little River to the S-Turns. Then there is a secondary bite from Kellogg's to Bartow Carver beach. That bite is hit and miss right now, and will remain that away until the mid-section of the lake completely turns over.
Most of the fish we are catching right now are 18-24' deep and can be found on points, humps and flats early.  After the sun comes up your best bet will be out over the river channel.
The topwater bite right now is slow, but look for it to pick up soon.
Remember to be universal when it comes to techniques this time of year.  Trolling, topwater and jigging spoons will be the keys to catching numbers on Lake Allatoona for the next three months.
November is one of my favorite months to fish Allatoona.  I still have plenty of open days, so give me a call at 770-827-6282 for availability.  Or book your trip online at First Bite Guide Service.