Lake Allatoona Fishing Report (7-11-12)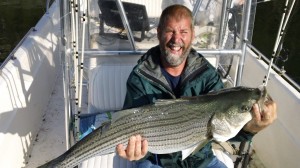 Robert Eidson's Lake Allatoona Fishing Guide Report is provided by First Bite Guide Service of Lake Allatoona.  When you're ready to catch stripers and hybrids, contact Robert at 770-827-6282 or by e-mail at [email protected]
Line-side fishing is great this week for numbers.  We have been catching most of our fish on down-lines.  Live bait fished on down-lines 19-30 feet deep is the key to loading the boat.
There is still a decent topwater bite right at sun up and then again at sundown.
Most of the fish are in the mid-lake section to the south, from Galts Ferry to the 75 bridge.  I have been catching a lot of fish within sight of the dam this week.
The mouth of Stamp Creek has been good.  Coopers Branch is good at sunup.  Allatoona Creek arm and Tanyard Creek are all producing good right now.
You can flat-line at sunup, but you're better off throwing a Sammy and or Fluke because it's only a 15-minute window to catch them on top, then it's time for down rods.
After the sun gets up good, go to your umbrella rigs.  Pull your rigs 130 feet behind the boat at 2.4 MPH.  The key is a loaded Mack Farr U-rig with 9-½ ounce jigs.
I was featured in May's Issue of Georgia Outdoor News!  Click Here for My Story on May Tactics on Lake Allatoona.
We still have days open for August.  Give me a call at 770-827-6282 and book your trip today with First Bite Guide Service.