Hit & Run Kills Father of Newborn Child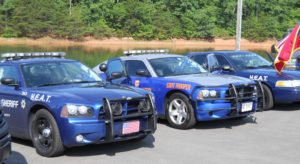 Larry Alan Ward had just left a Cherokee County campground and was walking on Kellogg Creek Road near Lake Allatoona just after midnight on Saturday when he was struck by a hit-and-run vehicle.
Mr. Ward, 31, of Acworth, was killed in the accident.  Reports say he was the married father of two children, one of whom is only a few months old.
The GSP says no eyewitnesses have come forward, but debris at the scene of the accident indicates the vehicle is probably a Ford Ranger or Ford Explorer between the model years 1989 – 1992.  The vehicle involved in this deadly crime will have obvious front-end damage.
The Georgia State Patrol (GSP) is seeking assistance in finding the vehicle that struck and killed Mr. Ward.
If you have any information about this fatal accident, please call the GSP at 706-692-4835.
We extend our profound condolences to the Ward family.