Lake Allatoona Fishing Report (9-12-12)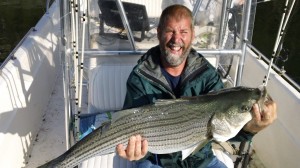 Robert Eidson's Lake Allatoona Fishing Guide Report is provided by First Bite Guide Service of Lake Allatoona.  When you're ready to catch stripers and hybrids, contact Robert at 770-827-6282 or by e-mail at [email protected]
Line-side: Good!!!  The bite this week is the same as last week's, so change nothing.
The fish are really starting to bunch up in the river and creek channels.  Mid-lake (Clear Creek to Victory Landing) has been producing the best.  The best part of it is these fish are willing to eat.
Topwater has been the overall best producer, with trolling umbrella rigs running a close second.  This is the time of year that you need to be universal and not one dimensional on techniques.  Live bait, down-lines, free-lines, topwater and trolling will all catch you fish on any given day.  If you are willing to experiment with all of these techniques throughout the day you can load the boat.
If this week is any indication of what's in store for us, this fall is going to be great fishing on Lake Allatoona.
We still have a few days open next week.  Give me a call at 770 827-6282 or book your trip online at First Bite Guide Service.