Lake Allatoona Fishing Report (12-13-12)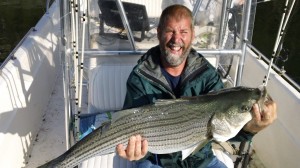 Robert Eidson's Lake Allatoona Fishing Guide Report is provided by First Bite Guide Service of Lake Allatoona.  When you're ready to catch stripers and hybrids, contact Robert at 770-827-6282.  You may also reach him at his new e-mail address: [email protected].
Line-side fishing has been fair this week.
The fish are on the move and can be caught anywhere from Little River to Iron Hill.  The water temperature is in the mid-50s and warms the closer you get to the dam.
This is usually the time of year I put my cast net up and fish exclusively with small trout and Mack Farr U-Rigs.
Early morning I put out a full spread — planer boards, free-lines and down-lines.  After 9 AM, I switch to all down-lines.  After 10 AM, I pull U-Rigs.
Overall I think the bite is starting to pick back up.  It should in full swing by Christmas.
Trolling has been the best producer for numbers.  But we have also caught some big fish this week on planer boards and down-lines … along with the u-rigs.
Mid-lake is still holding a lot of fish.  I look for them to start to move south and/or the backs of creeks in the upcoming weeks.
Remember, Christmas is right around the corner.  First Bite Gift Certificates make great gifts for the man "who has everything."
Give me a call at 770 827-6282 for availability at First Bite Guide Service.  You may also reach me at my new e-mail address: [email protected].