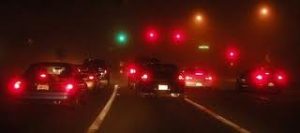 Christmas 2012 falls on a Tuesday, which for some reason seems odd.  Y'know?
Our friends at the Georgia Department of Transportation figure more travelers than usual are going to be driving around during the holiday week.
Heavy holiday traffic is expected throughout the state.  Motorists should expect congestion near malls and stores in the entire Lake Allatoona vicinity.
Georgia DOT will suspend construction-related lane closures on all interstates and major state routes from 5 PM, Friday, December 21 through midnight, Tuesday, January 1, 2013.   Incident management or emergency maintenance-related lane closures could become necessary on any route.
Road crews may still be working and heavy equipment may remain in close proximity to highways.  Other safety concerns may require keeping some long-term lane closures in place.
Georgia 511 provides statewide traffic conditions, route-specific information and estimated travel times within metro Atlanta. Additionally, 511 callers can access transit providers, major airports, rideshare organizations, Georgia tourism information and 511 systems in neighboring states.
For those preparing to fly, 511 connects callers to airports in Atlanta and Savannah for information on parking, delays or connections to carriers.  An automated voice recognition system guides the service, but callers can also reach live operators to report accidents or congestion, request HERO assistance or obtain additional information.
Check the maps on www.georgia-navigator.com for current road conditions, or call 511 on any phone for free, real-time traffic information.
Traveler information is also available at:
out of state callers may reach GA 511 by dialing 1-877-MYGA511 (1-877-694-2511).
The Georgia Department of Transportation is committed to providing a safe, seamless and sustainable transportation system that supports Georgia's economy and is sensitive to both its citizens and its environment.