New Echota's Fiftieth Anniversary Celebration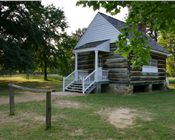 New Echota is one of the most significant Cherokee Indian sites in the United States, largely because it is where the "Trail of Tears" march officially began in 1838.
So many more significant events occurred there, as you will learn when you visit New Echota's twelve original and reconstructed buildings — including the Council House, Court House, Print Shop, Missionary Samuel Worcester's home, and an 1805 store — and the helpful visitor center.
On Saturday, May 12, 2012, the Golden Anniversary of this historical site near Calhoun, GA, will be commemorated.
New Echota, once the capital of the Cherokee Nation, will come alive once again with living history demonstrations, Native American arts and crafts, and guest speakers.
In honor of the 50th Anniversary celebration, admission will be free.