Lake Allatoona Fishing Report (4-18-12)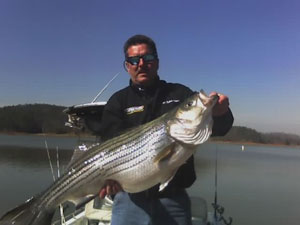 Robert Eidson's Lake Allatoona Fishing Guide Report is provided by First Bite Guide Service of Lake Allatoona.  When you're ready to catch stripers and hybrids, contact Robert at 770-827-6282 or by e-mail at [email protected]
Line-side fishing is very good!
The fish are starting to come back down out of the rivers and school all over the lake.
Flat-lines and planer broads are working best right now both in the morning and afternoon.  Midday try down-lines off any main lake point.  These fish are on the move and are schooling on top, so keep your eyes open and a White Zoom Super Fluke ready.
Trolling with the umbrella rigs is your best bet.  Use white over a 30-foot bottom.
Don't miss the action!  Come catch some fish with First Bite Guide Service.  Give us a call at 770-827-6282.