Lake Allatoona Fishing Report (9-20-12)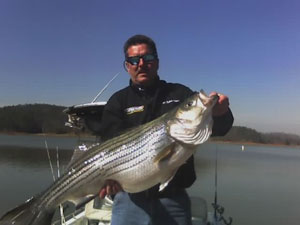 Robert Eidson's Lake Allatoona Fishing Guide Report is provided by First Bite Guide Service of Lake Allatoona.  When you're ready to catch stripers and hybrids, contact Robert at 770-827-6282 or by e-mail at [email protected]
Line side fishing is slow … other than a decent topwater bite for small white bass and 1½-pound hybrids.
Use a popping cork with a popping fly when you see breaking fish.  This is the typical September blues for hybrids and the fish are scattered from 40 feet deep to the top.  When you find them, they are bunched up so tight that you better be right on top of them.
Fish are anywhere from Bethany Bridge to Little River.  Concentrate right over the main river channel around the mouths of major creeks.
Live bait is almost a waste of time right now.  The trolling bite is probably the best bite for hybrids, but it is fair at best.  The bite will pick up in the next couple of weeks as the water cools.
October is a great hybrid month on Allatoona.  Usually when the water temperature hits 75 degrees, Lake Allatoona catches fire for hybrids.
We still have a few days open.  Give me a call at 770 827-6282 or book your trip online at First Bite Guide Service.