No Decision on Hickory Log Creek Reservoir Transaction
A well-written story by Geoff Folsom came to our attention.  LakeAllatoona.com knew you'd want to read it.
As you may know, the sale of the City of Canton's portion of the Hickory Log Creek Reservoir to the Cobb County-Marietta Water Authority is hotly contended.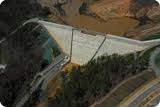 Even if the parties did agree, no one seems to know the value of what anyone is buying or selling.
Water authority General Manager Glenn Page said the Corps has not yet calculated the amount of water will be allocated to Lake Allatoona, down river from the Etowah and the Hickory Log Creek Reservoir, for example.
We invite you to read the story … and tell us what's going on.