Lake Allatoona Fishing Report (3-21-12)
Robert Eidson's Lake Allatoona Fishing Guide Report is provided by First Bite Guide Service of Lake Allatoona.  When you're ready to catch stripers and hybrids, contact Robert at 770-827-6282 or by e-mail at [email protected]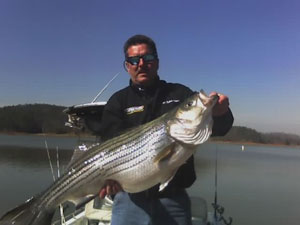 Line-sides: Good.
I wasn't on the lake much this week, due to my eye surgery – but when I did get out, we boated good numbers of fish, as in previous weeks.
Fish the same areas as you did last week and you should do just fine. Fishing for white bass, stripers and hybrids is fantastic right now.  The live-bait bite right now is great.  You'll find a lot of the fish from mid-lake to the S-turns … all the way up to the flats at Fields Landing.
The spawn run is coming soon.  I look for this to be a great run, both up the rivers and creeks.  Live bait, cut shad and chicken livers will all catch you fish once these fish get up and into the rivers.  But if the river isn't what you enjoy most, then fish free-lines and down-lines over the river channel on both the south end and north end of the lake.  You'll catch you good numbers of fish.
Remember, there is still a good number of fish in the main lake, even when the river run is at it peak.  They can be caught in great numbers off of sandy points and beaches.
Give us a call at 770-827-6282 to catch some fish with First Bite Guide Service.