Lake Allatoona Fishing Report (2-22-12)
Robert Eidson's Lake Allatoona Fishing Guide Report is provided by First Bite Guide Service of Lake Allatoona. Contact Robert at 770-827-6282 or by e-mail at [email protected] when you're ready to catch stripers and hybrids.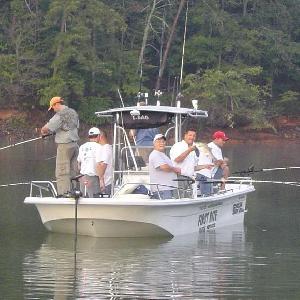 Line-side fishing is Great!!!  This has been the best February I can ever remember for line-sides on Lake Allatoona.
The fish are starting to stack up in the bays near Little River.  The sea gulls are showcasing these fish and they're easy to catch when they are on top.  Live bait fished on Free-lines and Planer Boards – along with throwing a spook – catch these fish. There is also a good down-line bite from Galts Ferry up to Clear Creek.  These fish are deep – anywhere from 18-40 feet down.
The south end is also picking up.  Iron Hill is starting to produce some really nice stripers.  The numbers are better up lake.  But the bigger fish seem to be south.
Trolling is also starting to pick up.  I have caught some really good Stripers and Hybrids on Mack Farr umbrella rigs from Galts Ferry north to the S-Turns.
Topwater:  We are starting to see some topwater action in the morning, but it's very short and limited.  The topwater bite will improve as the water warms. So keep a Jr. Spook ready.  Spring is almost here and so is the bite.
We are starting to book up for April.  We still have some good days open for the end of March and most of April.  Give us a call at 770-827-6282 to catch some fish with First Bite Guide Service.