Fossils — Tellus Museum's "Lunch and Learn" on February 22nd
Gather with others who enjoy learning for unique presentations and lunch in the private dining room at Tellus, a world-class museum in Cartersville, GA, just off I-75 at exit 293.   Lunch and Learn lectures take place on the fourth Wednesday of each month, from noon until 1 PM.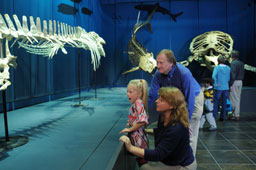 Lunch and Learn for February 22nd:
"Fossils: Where Geology and Biology Intersect" with Cantey Smith
Leave with three fossils to add to your collection! Learn the basics of the science of fossils from biological and geological perspectives.  Experience how an ancient object can engage, enliven and ensure learning at all ages! This lecture by our director of education is perfect for all ages.
Details
The lecture begins at 12:15.  No outside food is allowed but you are welcome to buy lunch in the Café and bring it into the lecture, or just come hear the lecture.
Lunch and Learns are free for members and included in regular admission for non-members.