Lake Allatoona Fishing Report (7-25-12)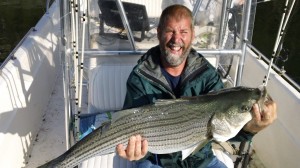 Robert Eidson's Lake Allatoona Fishing Guide Report is provided by First Bite Guide Service of Lake Allatoona.  When you're ready to catch stripers and hybrids, contact Robert at 770-827-6282 or by e-mail at [email protected]
Line-side fishing is Good.
The bite this week was a carbon copy of last week's.  The best bite right now is still within eyesight of the dam.  Most anglers are putting in at Red Top and not even starting their big motors.
The topwater action has been sporadic this week, but remains the most popular bite going.  The fish are busting most morning from the bridge at Red Top to the dam.  There has also been some topwater action in the Allatoona Creek Arm near Holiday Marina, and sporadic topwater action in Iron Hill.
The down-line bite remains strong, but bait is dying quickly.  You need to carry plenty of bait with you and change them out every five minutes.  Thread-fin shad are working best on my boats when fished 20-30 feet deep out over the river channel and the mouths of the creeks.  There are a lot people doing really well with shiners right now.  Shiners will live longer on a hook than a shad until the end of September, but thread-fin shad are still king — and it's the only bait I will use in my boats for the next three months.
All of my boats are fishing on the south end of the lake, and probably will be for the next four week.  I did go north on Tuesday and was surprised to find the water quality wasn't as bad as I thought it would be at this time of year.  I may venture mid-lake one day next week.
I was featured in May's Issue of Georgia Outdoor News!  Click Here for My Story on May Tactics on Lake Allatoona.
We still have days open.  Give me a call at 770-827-6282 and book your trip today with First Bite Guide Service.