Lake Allatoona Fishing Report (11-28-12)
Robert Eidson's Lake Allatoona Fishing Guide Report is provided by First Bite Guide Service of Lake Allatoona.  When you're ready to catch stripers and hybrids, contact Robert at 770-827-6282.  You may also reach Robert at his new e-mail address: [email protected].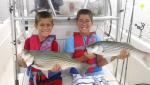 Line-sides: The bite on Lake Allatoona this week has been fair at best.
The lake is murky from the north end of the lake all the way to Galts Ferry.  Visibility is less than two feet.
The best bite on the lake right now is mid-lake around Bartow Carver.  Free-lines and planer-boards are still working best — right at sunup and then again at sundown.  Once the sun comes up, switch to down-lines in the same areas.
Trolling is very slow right now.  The umbrella rig bite will pick back up as the water clears.
There is also a bite starting to develop on the south end of the lake from the Dam to Iron Hill.  The quality of these fish is better than what we are catching mid-lake but the numbers are better mid-lake.
Trout and shad are both working well right now.
We still have a couple of days open next week.  Give me a call at 770 827-6282 for availability at First Bite Guide Service.  You may also reach me at my new e-mail address: [email protected].