The Atlanta Journal-Constitution sought an open records request and is reporting what Canton, GA, pays annually for construction, operating costs and bond payments for the 414-acre Hickory Log Creek Reservoir in Cherokee County.  The discovery was made while trying to determine the value of the reservoir.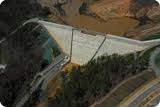 A draft of a consultant's report finally details what the Hickory Log Creek Reservoir costs Canton: about $2 million a year in bond payments, construction and operating costs.  Although it was originally expected to cost $19 million, the reservoir has cost $91 million thus far — almost 500% more than projected.  Evidently, Canton pays 25% of the reservoir's estimated $800,000 annual operating costs.  Canton's yearly bond interest payments are roughly $1.5 million more.
There has been much discussion about Canton selling its 25% stake in the project to the Cobb County-Marietta Water Authority, which owns the remaining 75%.
The reservoir is not expected to have any drinking water available until June, if then.  Ultimately, water would flow more than 1.5 miles into the Etowah River.  Canton will be authorized to draw more than 10 million gallons daily from the Etowah.  More than 30 million gallons of water is also expected to be available to the water authority from Lake Allatoona in the future.